LET US DESIGN AND DEVELOP YOUR DIGITAL DREAM
Stop settling for a mediocre website. Your business is awesome and your website should be too! We love websites. And we design and build based on what makes sense, not what's easiest or most profitable. Count on us to work with you to manage content creation, copywriting, design and development so you can focus on running your business. We stand behind our work and are ready to build mobile responsive websites that tell your story and get results.
WordPress websites built for efficiency
Built utilizing WordPress with Elementor. You will work closely with a dedicated designer to create a custom landing page or full website. Count on 3 hrs of design consultation to bring your vision to life, then 2 hrs of revisions. We also include immaculate copy writing to ensure your message is clear.  Time frames are generally 8 to 12 weeks to complete. Includes WCAG Compliant Design and Yoast SEO setup. 
Starting at 3 payments of $2,000
Ecommerce built for business
Take your pick of eCommerce solution, we will work with you to create a beautiful, effective eCommerce experience for your user group. Get a dedicated UI/UX designer and Project Manager to help you craft the eCommerce site of your dreams. Count on us to set up products, shipping, payment gateways and give you everything you need to make a splash in the eCommerce world. Time frames are generally 16  to 24 weeks to complete.
Starting at three payments of $3,000
WebsiteS With Limitless Possibilities
Built utilizing WordPress with Elementor. You will work closely with a dedicated project manager and UI/UX designer to create the perfect website. How do you know it's perfect? We create Figma mockups and walk you through every step of the process. We also include immaculate copy writing to ensure your story is perfect. WCAG Compliance and Organic SEO setup included. Time frames are generally 12 to 16 weeks to complete.
Starting at three payments of $4,000
We're here for the long run
Once your website is built, you want it on solid ground. We'll manage your website on our dedicated VPS, provide SSL Setup and Renewal, Premium Wordfence Security and Uptime Management Monitoring. In addition, we provide 2 hours of monthly service to maintain your website with the latest versions so everything continues to run smoothly. 


Hilton Phoenix Tapatio Cliffs
We love our Tapatio Cliffs partners. We have been working with them for over six years. First we built them a completely custom WordPress Website boasting over 60 pages. Then, we have provided virtual privates server hosting, uptime management and ongoing development retainer work. They have a full staff of marketing professionals but cannot justify a full time developer on their staff. That's where we have been a great fit. 
Edge had a vision but needed help turning their website vision into reality… until they met Rey. We worked closely to understand their business, their demographic and created a fun, creative website thats lasted through the years. We continue to host their site and support their marketing team as necessary on an hourly basis.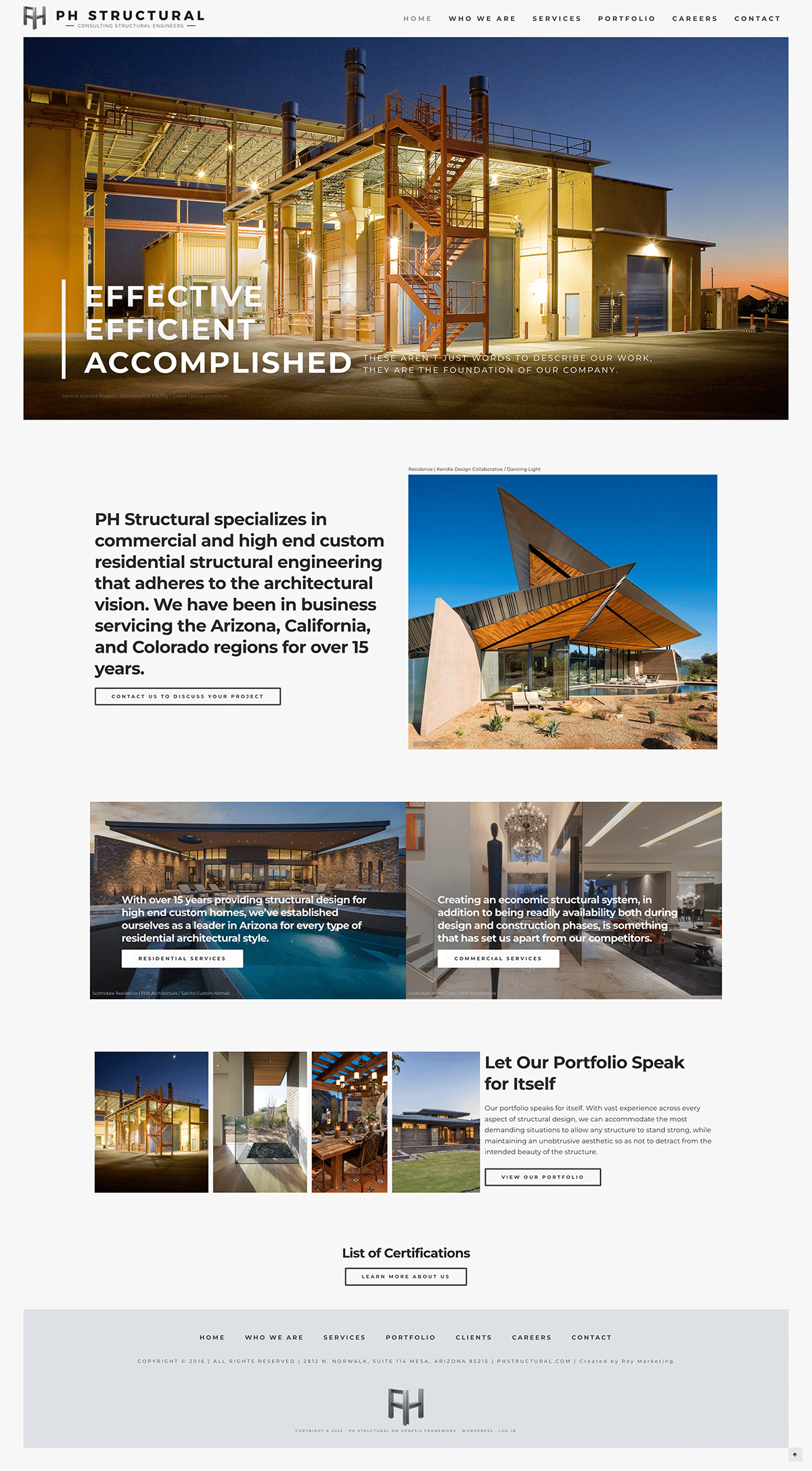 Here's a shocker. PH Structural's website was created by Rey in 2016. Yes, this gorgeous mobile responsive website has lasted through the ages! This is a great example of what a quality design matched with quality development can do for your business. PH Structural's website is a powerful portfolio resource for them, and they have continued to flourish with the help of Rey. 
From social media, to websites to content creation—businesses are carefully crafting their stories and getting the word out. We work with small business to provide the results you need to grow. We have an arsenal of storytelling tools. Our job is to understand your business, your dreams, your target audience, and share your story. The good news—we're good at our jobs.