Logos/Graphic Design/Branding
Stop settling for a mediocre website. Your business is awesome and your website should be too! We love websites. Count on us to work with you to manage content creation, copywriting, design and development so you can focus on running your business. Your dedicated project manager will keep you updated with weekly progress reports. We stand behind our work and are ready to build mobile responsive websites that tell your story and get results.
A working website is a must in this day and age. It all starts with a professional website, coded to last, then we can maintain and update it to grow with your business. There's no funny business here, all websites built by us are yours to keep.
We eat, breath, sleep and dream about content! It's what makes this whole thing work. Your brand needs photo, video, copy and an artistic facelift to help you crush it in 2023. Let's get the conversation started.
From template based, Webflow websites to fully custom WordPress, WooCommerce or Web Apps, we have solutions for every business. 
We're here for the long run
A healthy, secure website requires maintenance, monitoring and someone to jump in a solve problems. We provide monthly website management after our sites are live. Count on VPS hosting and SSL plus uptime management and a whole team to help you update your site. Stop wasting your time on hold with call centers, or waiting weeks for a freelancer to reply. We've got your back. 


Hilton Phoenix Tapatio Cliffs
We love our Tapatio Cliffs partners. We have been working with them for over six years. First we built them a completely custom WordPress Website boasting over 60 pages. Then, we have provided virtual privates server hosting, uptime management and ongoing development retainer work. They have a full staff of marketing professionals but cannot justify a full time developer on their staff. That's where we have been a great fit. 
Edge had a vision but needed help turning their website vision into reality… until they met Rey. We worked closely to understand their business, their demographic and created a fun, creative website thats lasted through the years. We continue to host their site and support their marketing team as necessary on an hourly basis.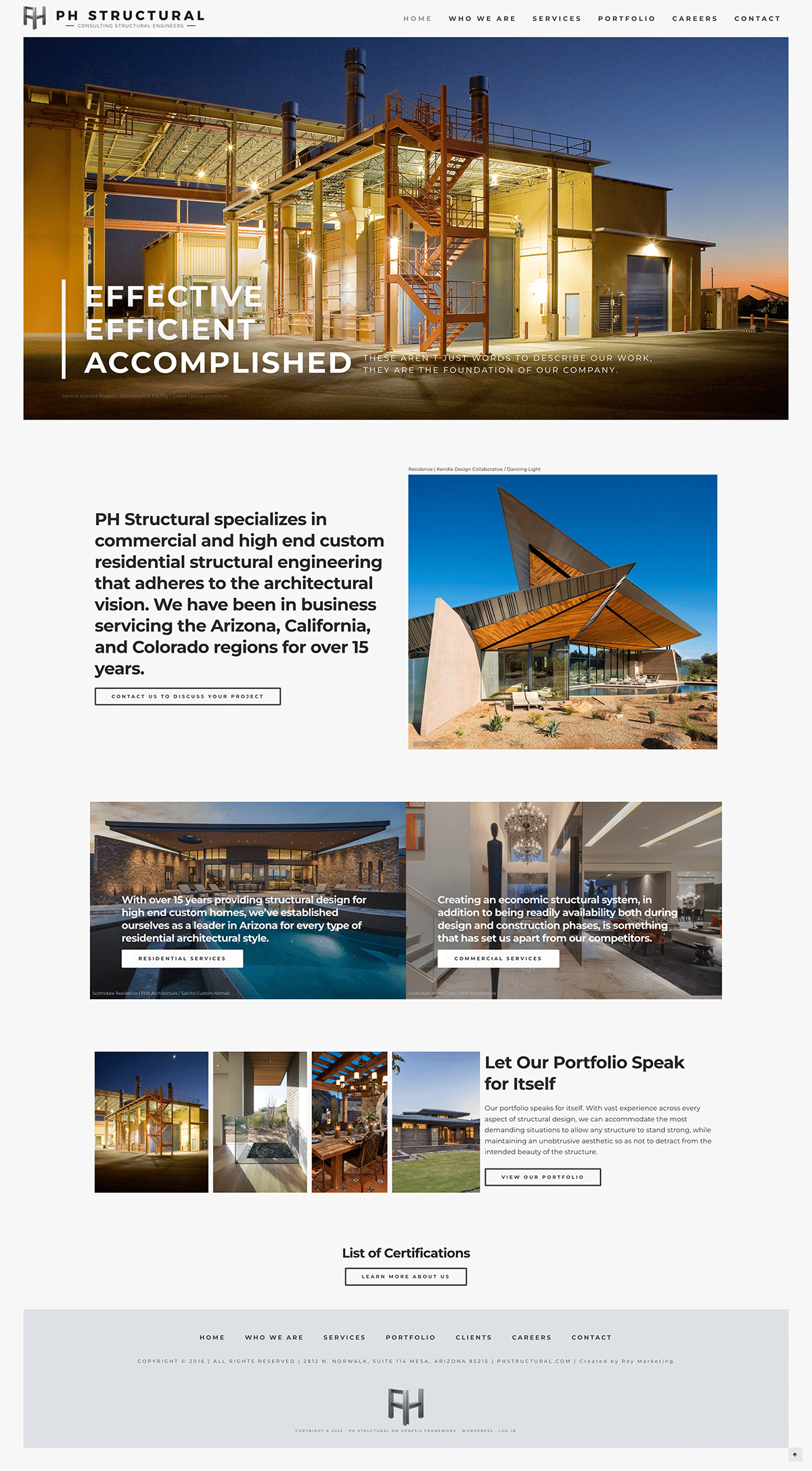 Here's a shocker. PH Structural's website was created by Rey in 2016. Yes, this gorgeous mobile responsive website has lasted through the ages! This is a great example of what a quality design matched with quality development can do for your business. PH Structural's website is a powerful portfolio resource for them, and they have continued to flourish with the help of Rey. 
From social media, to websites to content creation—businesses are carefully crafting their stories and getting the word out. We work with small business to provide the results you need to grow. We have an arsenal of storytelling tools. Our job is to understand your business, your dreams, your target audience, and share your story. The good news—we're good at our jobs.